Klik saja tombol yang berada pada diatas sebelah kiri, contoh gambar ada pada dibawah ini :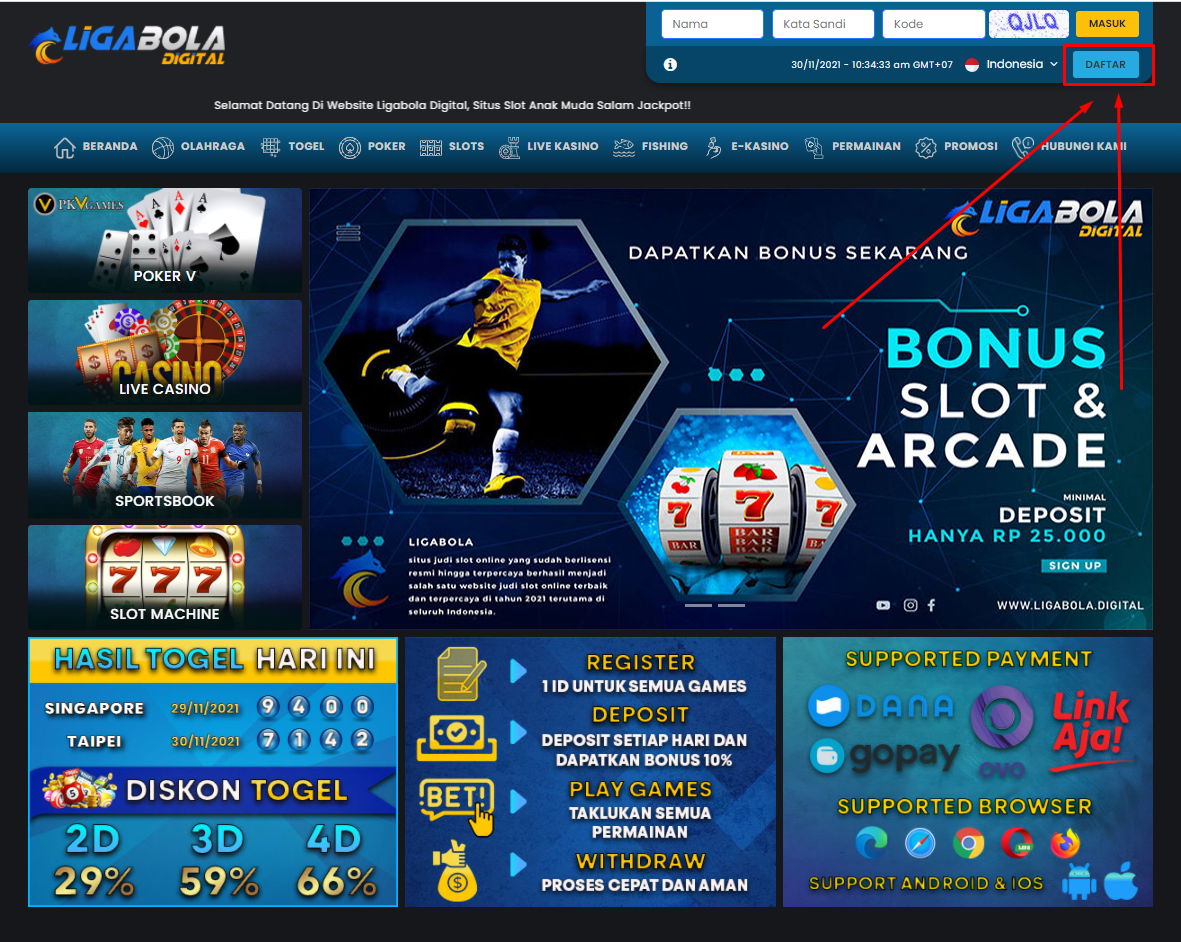 2. Setelah itu akan muncul pop up yang harus diisi dengan data lengkap, ataupun mengalami kendala dalam melakukan registrasi boleh meminta bantuan kepada setiap operator yang bertugas. Berikut dibawah ini adalah data - data yang perlu disiapkan oleh sobat sebelum melanjutan dalam permainan.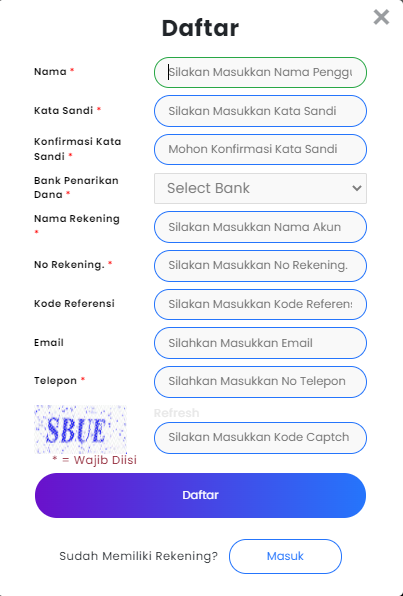 Keterangan :
~ Name* ( adalah sebuah username yang dibutuhkan waktu melakukan login )
~ Kata Sandi* ( masukan kata sandi / code pengaman untuk melakukan login )
~ Konfirmasi Kata sandi* ( Ulangi kata sandi / kode pengaman sekali lagi )
~ Bank Penarikan Dana* ( Pilih salah satu bank yang sobat gunakan )
~ Nama Rekening* ( Isi dengan nama yang tertera pada buku tabungan sobat )
~ No Rekening* ( Isi dengan nomor rekening yang terdaftar pada bank dan tentunya harus valid )
~ Kode Referral* ( Dikosongkan saja, jika ada baru diisi )
~ Email* ( Isilah email sobat yang benar dan valid )
~ Telepon* ( Isi dengan Nomor Handphone anda yang aktif )
~ Kode Captach* ( adalah sebuah kode yang wajib diisi dengan benar )
Copyright © LIGA BOLA DIGITAL . All Rights Reserved. v3.0.1109.16558.73
Transfer Funds To PokerV Wallet
PokerV Wallet Balance :
----
()
The actual value equals face value x 1.000. For example, enter 10 to transfer 10.000 IDR.
Only balance from main wallet is allow to be deposit into Poker V Wallet. Any balance in promotion wallet shall not be transfer to Poker V Wallet.
Once transfer is made to Poker V Wallet. User is not able to bet any other game with Poker V Wallet balance.
To withdraw the winning from Poker V Wallet, input the withdrawal amount and click on withrawal button then the main balance will be update.